Smart Management.   Smart Life.   
Life is fast, and it can be hectic, but it doesn't have to be complicated.  Paying your JREC bill shouldn't be a complex task, and with our SmartHub web and mobile app, it won't be.  SmartHub has several features that make managing your account as easy as possible.  Whether through the web, smartphone or tablet, you'll be able to pay your bill, view your usage and payment history, and contact us through SmartHub.   
ELECTRIC CO-OPS CREATE CHARGE EV
Regional electric vehicle charging network will alleviate range anxiety, encourage EV adoption
Jump River Electric Cooperative is among a group of 29 electric co-ops who created a regional electric vehicle (EV) charging network across Wisconsin, Illinois, Iowa, and Minnesota named CHARGE EV, LLC. The network includes over 30 Level 2 and Level 3 charging stations.
The group of co-ops is planning for future growth in EVs, and wants to alleviate "range anxiety," which is the concern some people have about traveling in an EV without a place to charge their vehicle. The CHARGE EV infrastructure is just the start as the group plans for additional investments in the EV market including member education on installing home chargers and encouraging members to test drive EVs. 
Charger locations and other information can be found at www.charge.coop.
Read the Press Release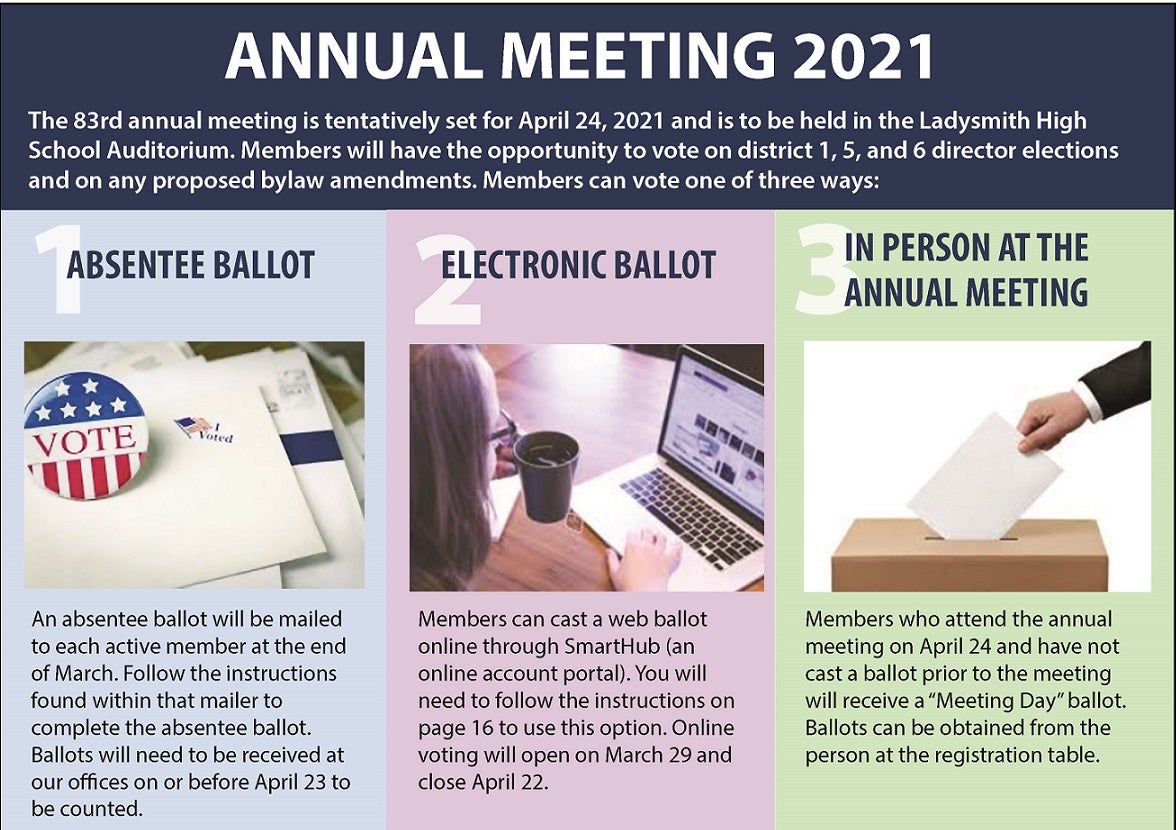 More Quick Links
Drivers of all ages are unaware of the clear and present danger of downed lines. 
JREC along with other Wisconsin Cooperatives, Federated Rural Electric Insurance Exchange, Wisconsin Electric Cooperative Assoication, and Safe Electricity, have come together to launch the below educational video aimed at making sure drivers know what to do if they are in a crash that involves power lines or other electrical equipment. Be sure to check out this video today.  It could save you or your loved ones life! 
CAPITAL CREDITS - Your piece of the pie!
You received a slice of the pie (capital credit) on your November bill.  100 percent of any capital credits allocated in 1990 and an additional 2.5 percent from 1991 to 2019 were returned to you in the form of a credit.  Look for this credit on your November bill. Over the years, your co-op has retired over $8.8 million in capital credits.  This is proof that co-op membership pays off!
In December you will receive a second credit and this is a Power Cost Adjustment (PCA) credit.  This PCA credit is a result of money being returned to JREC from Dairyland Power Cooperative, our wholesale provider, due to them having excess margins in 2020.  This money will be returned to our membership based on their usage in 2020.
If you have questions on any of this credits, please give our office a call.
Unlimited Internet available to you! Find out about Viasat by clicking on the MORE button below.


You can also call 715-532-5524 for more information and to see if Viasat is available in your area.
Speeds up to 30 Mbps!
Packages as low as $59.99!