Featured Community Events
If you or your loved ones are feeling symptoms of COVID-19, the CDC is advising against going straight to the doctor or hospital.  Instead you are being asked to call the COVID-19 assessment hotline at 877-998-0880.  Someone there will ask you questions about the symptoms you are experiencing and advise you on the next steps. 
Be sure to enter the Lucky 13 Turkey Drawing and participate in our #WeAreThankfulJREC Facebook challenge for a chance to win. You can find drawing tickets on page 16 of the Wisconsin Energy Cooperative News or stop by one of the two offices and complete a drawing ticket for a chance to win 1 of the 13 turkeys given away before Thanksgiving.
JREC wants to know what you are thankful this holiday season.  Share your story by participating in our #WeAreThankfulJREC Facebook challenge.  We ask that members share a favorite family tradition or something they are thankful for this holiday season.  Pictures are welcome as well.  Please add your account name to this post so we can enter you into a drawing for a chance to win one of three JREC swag bag and camping chair combos.
Be sure to shop local year-round and visit the many farmers markets, during summer months, within our community.  
Third Friday of Every Month:  Breakfast for Your Brain held at the Ladysmith Senior Center, located at the Fairgrounds.  Runs from 9:30 - 10:30 a.m.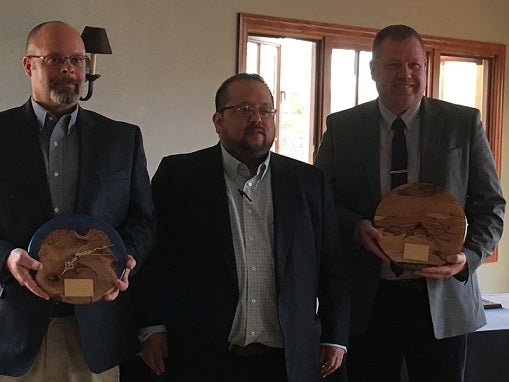 JREC RECEIVES RUSK COUNTY LARGE BUSINESS AWARD
Dairyland Power Cooperative (DPC) and Jump River Electric Cooperative (JREC) received the 2019 Rusk County Large Business Award on April 25. Manager, Environmental Impact Brad Foss of DPC (far left) and General Manager/CEO Jim Anderson of JREC (far right) accepted this award.  This award was presented by Andy Albarado, on behalf of the Ladysmith Industrial Development Corporation and Rusk County Economic Development.

JREC IS ON THE ELECTRICAL VEHICAL (EV) GRID
JREC joins other co-ops in expanding the EV charging station infrastructure. Free charging stations are available 24/7-365, at the Ladysmith and Hayward offices.  We recently received the above photo from Sydney B de Boer, utilizing the EV charger at the Hayward office. 
A regional EV charging network across Wisconsin, Illinois, Iowa, and Minnesota named CHARGE-EV, LLC. was created by JREC and 48 other cooperatives. Go to www.charge.coop for charger locations and other information regarding this EV charging network.