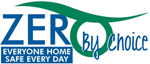 Safety is our highest priority at Jump River Electric Cooperative, and our goal is to be a zero-incident workplace … where every incident is preventable. Everyone Home Safe Every Day emphasizes our cooperative commitment to safe practices in and out of the workplace.
Our #1 rule is : SAFETY FIRST!  No questions asked, when we work on your lines we are working to improve reliability and safety for not only you, our member, but for our lineworkers too. If you see something that doesn't look quite right, we encourage you to call our office and report it. Safety is truly a team effort. Everyone at JREC is involved in advancing a positive, strong safety culture each and every day. 
Safety is #1 for Touchstone Energy Cooperatives
Jump River Electric Cooperative is a member of Touchstone Energy, a nationwide alliance of 750 local, consumer-owned electric cooperatives in 46 states. The Touchstone Energy Cooperatives Safety campaign focuses on the safety and well-being of all members. It provides members access to an interactive home electrical safety checklist and an electrical safety tips quiz . 
Link to Safety
Electricity is integral to everything we do in modern life, at work and home. Since it is invisible, we often go through our daily routines without giving the power of electricity much thought.
Please conduct a safety review of your home  to avoid electricity-related dangers. The Electrical Safety Foundation International (ESFI) has important tips and information about staying safe around electricity. Take a moment with your friends and family to review what to do if a vehicle comes in contact with power lines (link is external). Always assume downed power lines are still energized and stay away until a uniformed lineworker confirms the area is safe.